Working from home has become a polarizing issue as more companies adopt the practice (or rescind it… I'm looking at you, Yahoo). After seeing an endless stream of articles intended to help more sociable employees take the plunge successfully, I decided to post my own take on the subject: from the perspective of an introvert.
For me, working from home is blissfully productive, at least on days with no meetings. Days with meetings are less blissful. Days with surprise meetings feel like this…
It never occurred to me that some people actually don't like to work from home. Remote arrangements are a mixed bag for them due to developing a feeling of isolation. Apparently, these folks feel lonely, demotivated, detached, and generally depressed if they go too long without human interaction. You guys know my views on human interaction (e.g., creeping dread), so I keep reading out of morbid curiosity to see how the extroverts live.
Within a few paragraphs of one of those articles, I'm locked in something Brian calls Fringe Face: the horrified face I make when something gruesome happens on the TV show Fringe.
I've compiled a few of the more popular tips and my reactions to them below.
Tip: Get out of the House
My Reaction: Yes
Going outside at least once a day is good for your brain. I walk with Brian as he goes to and from work. Walks are great for exercise, fresh air, sunshine, and think time. A good chunk of my blog posts have been conceived during these walks.
Tip: Share an Office
My Reaction: Fringe Face
Wait, what? That negates the entire purpose of working from home, doesn't it? If I wanted to be stuck in a tiny room with someone popping gum or yelling on speaker phone all day, I'd work in an actual office. NO.
Tip: Set Some Routines
My Reaction: ALL OF THE YES
Routines are my Sapho juice. They spark my brain for maximum productivity and the happiness that comes with getting stuff done. You can arrange your day to knock out unpleasant tasks first (if you're into that) and schedule things to look forward to when you know you'll need a pick-me-up.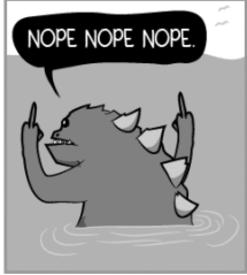 Tip: Attend Conferences
My Reaction: Fringe Face
I can see the benefits for someone who gets their energy from other people, but the thought of going to another conference makes my eye twitch. Crowds, small talk, business attire, awkwardness… awkwardness everywhere. All of my nope.
Tip: Use Social Media
My Reaction: Yes!
I find this tip useful because I can keep up with people and topics I like without having to participate in painful spoken conversations. So many cool people and communities are out there ready to type with you!
Tip: Phone Calls/Skype
My Reaction: Only When Necessary
I loathe talking on the phone. In addition to that whole introverted I'm-a-Mute thing, I have raging tinnitus. Long phone meetings give me headaches because I have to concentrate so hard to understand people. I can handle short calls, but please don't get mad when I ask you to repeat yourself.
Overall, though they horrify me, these ideas make sense. They'll fit into my ongoing efforts to push my limits and improve myself, so I'm going to work on them (except the shared office thing… no means no). Hopefully soon, I'll graduate from "Automatic Fringe Face" to "Wednesday Addams Trying to Be Normal."